PRODUCT RANGE

Boiler Pressure Parts

Boiler Accessories

Steam Accessories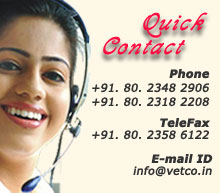 Welcome !
VETCO ENGINEERS PRIVATE LIMITED is a company incorporated under the company act. We are an Approved Class -1, a special category Boiler repairer and pressure part manufacturer, constituted by the Director of Factories & Boilers, Karnataka to carry out the erection and repair of high pressure boilers and manufacture of boiler pressure parts.

We are engaged in manufacturing of high pressure boiler parts, accessories & replacement services of boiler pressure parts as per IBR 1950. We take up Steam Piping & other utility piping on turn key basis. We have a well-equipped manufacturing unit with all types of facilities under one roof.
To ensure high quality standards in all our boiler parts and services, we have created a team of professionals that have rich experience in the segment of boilers. We also constantly up-grade the expertise and knowledge of the team according to the latest technology to ensure superior quality.
We posses advanced technology like booster bending machines, Drawn arc stud welding, TIG / MIG welding etc. for high end results with quick delivery and customer satisfaction.