PRODUCT RANGE

Boiler Pressure Parts

Boiler Accessories

Steam Accessories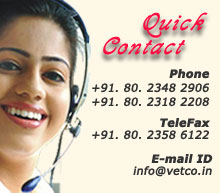 ABOUT US
VETCO ENGINEERS PRIVATE LIMITED, situated in Bangalore, Karnataka State. Our Company was started with an objective to meet the Customer's requirements in the field of Boiler pressure part assembly and erection. Subsequently, in the following years, the Company has added many more products related to Boilers as per the Customer's requirements.
Our Company is involved in designing, manufacturing of Boilers Pressure Parts. The crew members have more than two decades of experience, in manufacturing and replacement of Pressure Parts, like Super Heaters, Economizers, Water Wall Panels, Boiler bank Tubes, Headers, Steam accessories etc.
We are proud to have a database of satisfied customers partnering our march towards excellence. This is a result of one to one interaction with the customers and presence of experienced team at every site for quick remedies & answers. We have ready stock of standard raw materials to meet customer exigencies.
Our Premier Customers are :
Thermal Power Stations
Captive Power Generation Plants
Co-generation Plants
Fertilizers Plants
Paper and Pulp Industries
Sugar Plants
Cement Industry
Breweries & Distillery Plants
Chemical & Process Industries
Solvent Extraction
Textile Industries
Tyre Manufacturers